Unique Identification of Medical Devices according to the new law
Unique Identification of Medical Devices according to the new law
What awaits us in the near future?
We have already discussed the topic of unique identification of medical devices on our blog. Today we would like to introduce you to the topic of changes in the existing regulations.
UDI regulations have been developed and implemented by the US Food and Drug Administration, the European Commission, and by global regulators. Their main goal is to increase patient safety and improve the quality of healthcare.
According to the initial assumptions, the obligation to place codes on medical labels and packaging was to apply from May 26, 2021 at the earliest (class III). The differences in the date of introducing the regulations depended on the individual classes of the products themselves.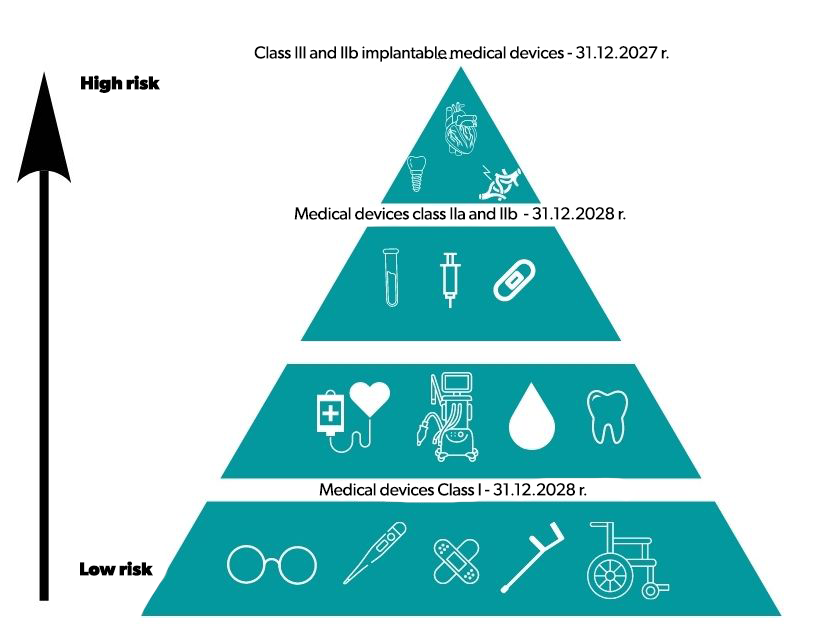 Own study based on https://gs1pl.org/
On January 6, 2023, the European Commission adopted a proposal to amend the MDR (Medical Devices Regulation) to extend the transitional periods for medical devices. This is extremely important information for manufacturers of medical devices who have been afraid for months that they may not be able to complete MDR-compliant procedures and certification.
The extension of the transitional periods applies to implanted class III and IIb devices until December 31, 2027, and class IIb and IIa devices and class I devices with a measuring function or sterile devices until December 31, 2028. All class I devices according to the MDD (Medical Device Directive), which, according to the MDR, should be classified as a higher class, may be placed on the market, under certain conditions, until December 31, 2028. The extended deadlines apply only to manufacturers who submit a formal application to the notifying body for certification by May 26, 2024, at the latest. An important element of the changes is also the abandonment of the sell-off clause, thanks to which products introduced into circulation before May 26, 2021, will remain on the market longer than until May 2025.
At Prespack, we provide services dedicated to the pharmaceutical industry. On a daily basis, we cooperate with both manufacturers of medicinal products and manufacturers of medical devices. We provide services in the field of contract packaging, repackaging into individual packaging, as well as their serialization and aggregation. We care about the support of our clients, which is why we are happy to share our knowledge about changes-on any modifications to regulations.